Marshmallow World
Bath Bomb
Sweet, pink, vanilla soaks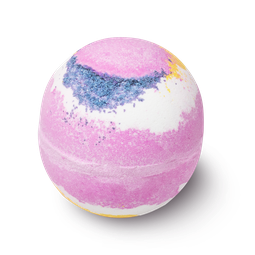 "I love this one, it's my favourite. The smell is the most absolutely calming smell I have ever smelt. It's just pure relaxation to me, calms me down helps with my anxiety whenever I use this. The smell is a soft marshmallow, creamy scent." - Lush girl1

"I am obsessed with this bath bomb. It leaves the bath water a beautiful shade of pink with a milky hue to it which I love. The scent lasts throughout the entire bath and reminds me of a strawberry vanilla milkshake..." - katthecat

"...It's the first one to truly relax me and my body. It makes a water the perfect pink, and the water feels extremely moisturising and thicker than your average bath bomb! I'm in love with this product and cant wait to have it again soon! <3" - Meipinkie
How to use:
Fill your bath with warm water (we recommend 37°C+, just above body temperature) and drop in to indulge in an American Cream dream. Vanilla with a touch of strawberry, this will leave you feeling smooth and sweet.

How to store:
Like marshmallows, keep this fluffy delight in a cool dry place. 
Did you know?
Over 25 years ago we invented the bath bomb. Our fizzing bicarb beauties provide an immersive aromatherapeutic bathtime like no other. All this and no packaging too...
Fighting animal testing
We have been fighting against animal testing since before we opened our first shop, and the fight continues today. We test products on humans and promote, fund and use alternative testing methods entirely animal and animal-product free. Find out more