U-N-I-BROW Brush
Pinceau de maquillage
Makeup bag multitasker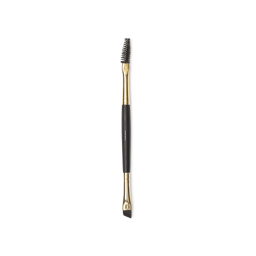 Lush Collect

Payez en ligne, récupérez vos produits en boutique
"Great vegan friendly and cruelty free brush. It's so soft. Fantastic double ended brow brush." - Karen Whittard
U-N-I-BROW - Double Ended Brow Brush
✓ Targeted application
✓ For brow makeup
✓ Define and add texture to brows
U-N-I-BROW is great, whether you want an Instagram brow or a more natural look. It has a spoolie at one end to brush through brow hairs, and an angled brush at the other to add detail.
How to store:
This brush comes in a 100% recyclable paper wrap, which keeps the brush clean and protected prior to use. Remove before use.
Our brushes are 100% cruelty free and made expertly and lovingly by hand. Our brush hair is 100% synthetic and vegan in order to comply with our cruelty free standards. Our brush handles are made from lightweight aluminium and sustainably sourced wood which is finished with a vegan laquer.
This brush is exclusively available online as well as in our Makeup Concept stores (Belfast, Birmingham, Liverpool, Munich, Oxford Street, Shinjuku).
Fighting animal testing : Combattons les tests sur les animaux
Aucun de nos produits ou ingrédients n'est testé sur les animaux, à aucun stade de leur production. Nous combattons les tests sur les animaux depuis l'ouverture de notre première boutique, et ce combat continue encore aujourd'hui. Nous finançons et utilisons des méthodes de tests pertinentes pour la biologie humaine, qui n'impliquent aucun animal ou produit d'origine animale. Cliquez ici pour en savoir plus.