Turmeric Latte
Badebombe
Latte love to give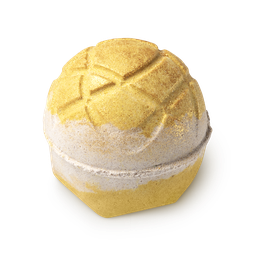 "Beautiful looking. Golden shimmer color. Smells amazingly delicious and softens skin. I like the bomb and its did not irritate my sensitive skin..." - dya2011_744011

"I love how creamy and frothy this bath bomb is, but I was expecting a bit more from the scent! I didn't really notice it too much when I was actually in the bath, but later on I could really smell it lingering in the bathroom and on my skin too so that was good!" - mollyjohughes

"This one is AMAZING!!! It has so much glitter and the water turns so golden, shimmery and beautiful! The scent is so delicious! It makes the water lovely and soft so it's nice and moisturising. This one is so relaxing for me. LOVE LOVE LOVE!!!!!" - jenessakurawsk
How to use:
Warm up with this stimulating, velvety smooth bath bomb. Drop into a hot bath, allowing the vanilla, turmeric and coconut milk to leave you feeling like a fresh latte.
How to store:
Wake up and smell the coffee. Leave cool and dry. Best used fresh.
Did you know?
Over 25 years ago we invented the bath bomb. Our fizzing bicarb beauties provide an immersive aromatherapeutic bathtime like no other. All this and no packaging too...

Wir kämpfen gegen Tierversuche
Wir haben schon vor der Eröffnung unseres ersten Ladens gegen Tierversuche gekämpft und der Kampf geht bis heute weiter. Wir testen unsere Produkte an freiwilligen Testpersonen und fördern, finanzieren und nutzen alternative Testmethoden, die komplett tier- und tierproduktfrei sind. Mehr Infos