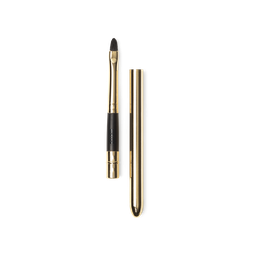 "Here comes a brush that just helps you line your lips better. I always thought travel lip brushes were naff. But Lush's vegan brushes are just gorgeous." - thesticklebrick_
How to use:
To use, simply remove the retractable golden lid and snap onto the bottom of the brush. Load the colour from your favourite lipstick onto the brush, pucker up and apply onto the lips. Once you're done, snap the lid back on and pop it in your bag. Limited space? Before replacing the lid, reload your lip colour onto the brush for on the go top up's without needing to bring your lipstick along, too!
How to store:
This brush comes in a 100% recyclable paper wrap, which keeps the brush clean and protected prior to use. Remove before use.
What's inside counts
Our brushes are 100% cruelty free and made expertly and lovingly by hand. Our brush hair is 100% synthetic and vegan in order to comply with our cruelty free standards. Our brush handles are made from lightweight aluminium and sustainably sourced wood which is finished with a vegan laquer.
This brush is part of our core brush collection and so is in all of our global retail stores as well as online.
打擊動物測試
自我們第一家門市面世,我們便堅持打擊動物測試。時至今日,這個信念從未改變。我們會利用人體測試產品,並推廣、資助和使用百分百無動物及動物副產品的替代測試方法。了解更多