Skiing Elves Knot Wrap
Cadeauverpakking
Look after your elf!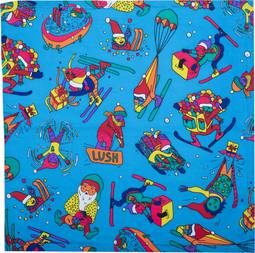 Santa's elves are busy scurrying around the North Pole getting Christmas ready. But they sure know how to have a good time while they're at it! Join in the fun with this brightly coloured Knot Wrap made from organic cotton.

How to use:
- If you're looking for a waste-free wrapping option this year, use this fabric alternative to wrap up your chosen products for a tailor made Christmas gift.
- Looking for some inspiration for how to tie your Knot Wrap? Visit this page for some handy tutorials.

Benefits:
- Not only does this reusable Knot Wrap stop traditional wrapping materials from going to waste, it can also be reused over and over, turning the wrapping into part of the gift itself!
- This Knot Wrap is made with 100% organic cotton grown by farmers who are paid a living wage and use ethical farming practices.
Fighting animal testing
Al vanaf het begin strijdt Lush tegen dierproeven - al voor we onze eerste winkel openden - en deze strijd gaat door. We testen producten op mensen en promoten, financieren en gebruiken alternatieve testmethoden die volledig dier- en dierproductvrij zijn. Lees meer