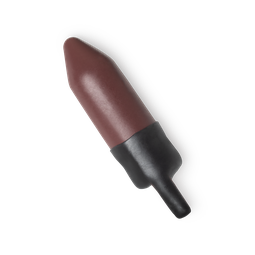 "The colour is perfect, true to the picture. Lasts a while and looks great. Love that it's vegan and there are refills too! Buying more colours!! " - charjsy_659890
To use this naked wax refill, hold at the base and peel up using the black tab. Remove the black wax portion on the bottom, and slot into a clean, empty lipstick container. Remove the rest of the peelable wax and rich rusted ochre lips are yours!
What's inside counts
Cruelty-free kisses starts with you! Our 100% vegan lipstick contains a host of non animal tested, skin loving ingredients such as creamy, hydrating Castor oil which is expertly combined with long-wearing, cruelty-free pigments for stand-out lip colour.
This shade of lipstick is part of our Core lipstick range and is available in all Global Lush stores (excluding NA)
打擊動物測試
自我們第一家門市問世,我們便堅持打擊動物測試。時至今日,這個信念從未改變。我們會利用人體測試產品,並推廣、資助和使用百分百無動物及動物副產品的替代測試方法。了解更多