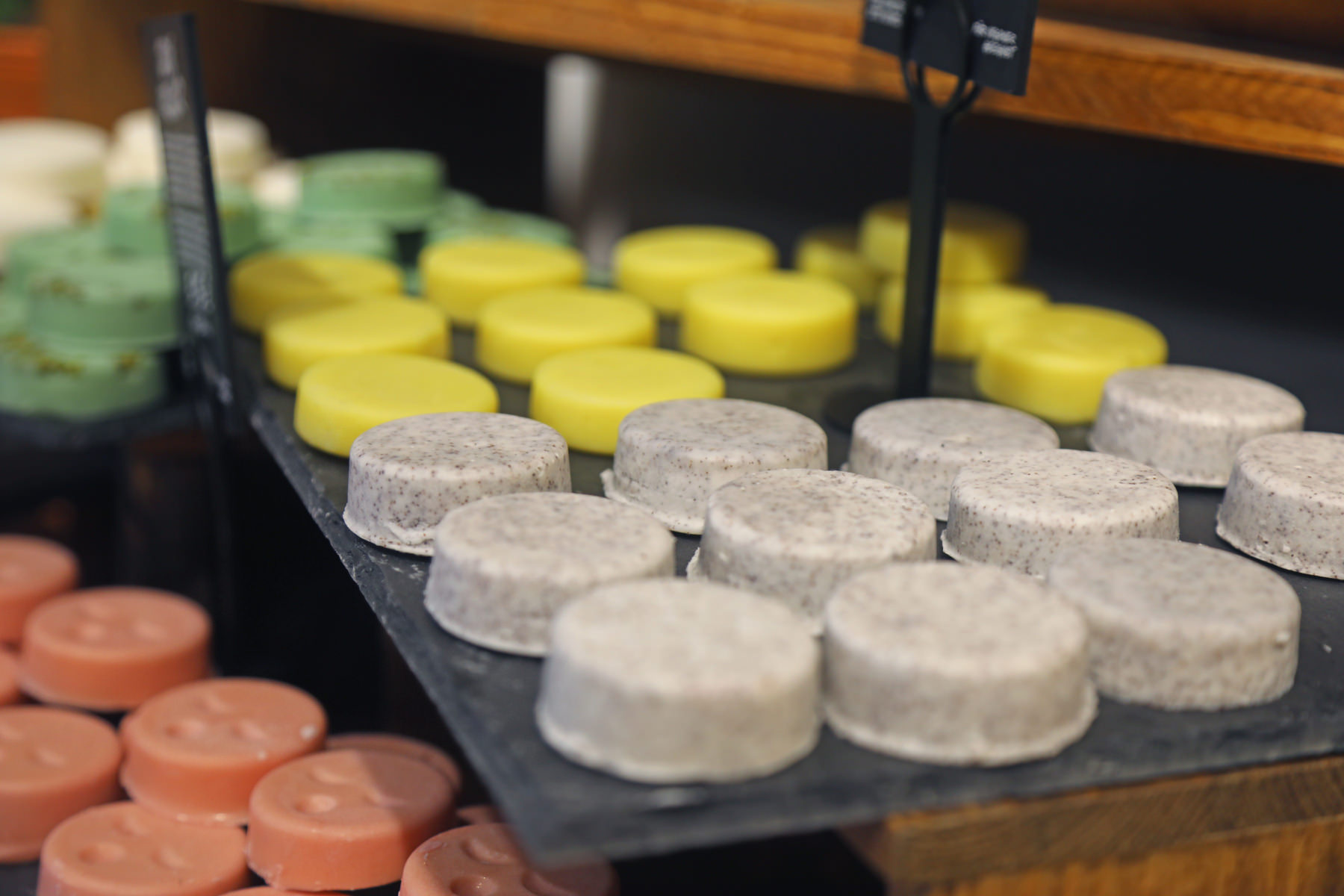 For the opening of the Lush Berlin Naked shop, we invited lifestyle and fashion blogging pair Grace and Amelia Mandeville to visit Berlin to attend the event and explore the shop.
During their visit, we challenged them to spend the entire trip as "naked" as possible - opting for alternatives to plastic packaging where they could in a demonstration of how difficult but, ultimately, how important it is to reduce our use of plastic. After a day of exploring both Berlin and the shop itself, here is how they found their challenge.
The afternoon - "I'm going to Berlin tomorrow" I texted my boyfriend. I had just found out from Lush, that they wanted us to go to Berlin for 24 hours, as there was a new "naked" shop opening - where all products are packaging-free. Lush challenged my sister and I to spend our 24 hours also being "naked". I love a challenge. I love the idea of a fully naked store. I loved the idea of recording my experience. I was so up for this.
The evening - I decided to pass on packing, and Mum suggested watching the BBC documentary Drowning in Plastic instead. We nestled down on the sofa to watch while I was doing some last minute emails. However, my productivity disappeared almost immediately. My full attention was on the documentary, my heart aching, gasps coming from my mouth, and my eyes opened wide. I felt like I always knew the effects of plastic, but I realised I never actually let myself think about it, almost turning a blind eye. After watching that program, I found out that not only did I want to do this challenge, I needed to do this challenge.
The morning:  It was time to get myself prepared for my afternoon of travel. I drove to my nearest shopping centre and started preparing for the next plastic-free 24 hours. I have to say, I was shocked by how hard it was to find my regular day-to-day essentials.
Toothbrush - I buy a bamboo one.
Toothpaste - From what I can see, all of it is plastic now, but I managed to find the closest to non-plastic - foil, with a plastic top.
Water bottle - A reusable one, half price in Debenhams.
Coffee cup - Reusable from Paperchase.
Snacks - I buy fruit yoyos, fruit snacks packaged in what I thought was paper packaging (not totally sure if it's 100 percent paper. Then…came my biggest challenge.
Sanitiser - I went everywhere but could not find a plastic-free form of sanitiser. Due to my anxiety, sanitiser is a must for me. It is my weird comfort blanket. I struggled with the realisation that I couldn't buy something to help my anxiety when travelling, without hurting the environment. This led me on to realising, my makeup, hairbrush, and makeup brushes, were all either made of or packaged in plastic. And there was very little I could do about that, so I just packed the very minimum of those products. My conclusion for the shopping trip was that the cosmetic world needs to up its sustainable products ASAP. It came to me that I use plastic all the time, daily, without thinking about it. I am reliant on the world of plastic and I know I'm not the only one.
The afternoon: We get to the airport, get through security, and Grace and I bought cookies, served in a paper bag. No plastic used. Yes! Points for us!  I am a very nervous flyer and like a drink on the plane to calm me down - I'm sure there is a better method to soothing flying nerves but I haven't found it yet. Knowing they will use plastic bottles on the plane. I bought a mini glass bottle from duty-free, politely declining the plastic wrapper, and a plastic bag, opting to pop it in my tote bag instead. It's all about thinking ahead. I decided, as weird as it would look, I'd drink it from the bottle instead of using a cup on the plane. Because yet again, the cup would be plastic.
After going to duty-free I decided to look for a water fountain but this task proved to be a lot harder than expected. The journey for the desired fountain took me all across the airport and back again, just in time to make the plane. It wasn't easy. "People aren't going to start filling up their own bottles until there are more water fountains available" I noted as I made my way to my seat.
The Evening:  We arrived in Berlin and I was grateful to discover that there was a glass bottle of water in our hotel room. Lush had left us a gift and we unravelled our naked goodies, held together by a knot wrap. Lush gave me a naked shower gel, to wash my body and T'eo solid deodorant, to keep me fresh. A Godiva shampoo bar, Jungle solid conditioner, and a hot oil treatment for my hair. A Full of Grace serum for my face and Scrubee, body buffer for my body. I was very excited to use these but also too tired to use them that night. I used my bamboo toothbrush, and sort of non-plastic toothpaste and went to bed.
The morning - I woke up and went through my usual shower routine with the naked products. I then washed my face and used the Full of Grace Serum, finishing with the T'eo deodorant, I was nervous about this because I am fussy about deodorant… but I plodded on. This was my challenge and I knew I had to stick to it. While I was exploring Berlin that morning, I kept in mind to keep my plastic-free life in check. Simple things like filling up my bottle of water in Starbucks instead of buying one, having a coffee in a mug instead of a takeaway cup. I was surprised by how natural it started to feel.
The afternoon -  We met up with the lovely Hannah from Lush and went to the new Naked store - it was divine. It was like any Lush store: fragrant, colourful and happy, but without plastic. We had a tour, and looked at all the different products, some exclusive to the store. I was lucky enough to be able to take a few of my favourites home. I went for a naked highlighter, due to the lack of naked cosmetics out there. I know that Lush are leading a good example that other brands hopefully will follow.  I then got the Like A Virgin cold cream cleanser and the Jade Roller cleansing balm. Lastly, I got one of their new seaweed eye masks, the most glorious little things. Pop into hot water, soften them, put under your eyes and then after a few minutes take them off. The great thing with these seaweed eye masks is that it's literally just seaweed, so it's biodegradable. The first sheet face mask that won't end up with the rest of the trash that is clogging up our sea. My two regrets were not buying the Argan facial oil and the Atmosphere selection box, but hey that's something for my Christmas list.
The evening - As I headed home and waiting for the plane, I was frustrated again by the lack of an option to fill up my water; so this time I had to buy a bottle, which made me very annoyed at myself. I realised that we can't expect people to use less plastic if it's sometimes the only available option. That's why I appreciate what Lush is doing. Making the change. 
From this challenge I've learnt how dependent we are on plastic. Change needs to be made. It's going to be virtually impossible to be totally plastic free, but it's about getting out of the habits you've been used to and taking the chance to try different things for our planet and our animals. As soon as I got back to my room after a day of walking around Berlin, exploring the shop, the exciting buzz, the airport, the plane, and getting all the way home - I gave my armpits a sniff. A bit gross, but I smelt fresh as a daisy. Not even sweaty. Pretty impressive. Thanks, Lush. 
I'm sitting on the flight back from an eye-opening, plastic-free 24 hours in Berlin with Lush. I have left feeling enlightened but also frustrated - why is everything either made from plastic or wrapped in it? I want to help the planet and do my part but I'm battling against huge corporations and the thought of it exhausts me. 
I'm looking at the menu of snacks onboard the flight home and I'd say about 95% of them are covered in plastic and the other 5% will definitely come in plastic even though it's not advertised in the image. Let's be honest, the tapas selection of cheese and meats aren't going to just be thrown onto my table with no packaging are they? I actually asked to look at the tapas box out of curiosity. What can I say, I take this whole journalist role very seriously. Of course it was wrapped in plastic though, I never doubted it, it's like everything is wrapped in some kind of coating ready to ruin our planet.
I know that I'm definitely not perfect, I'm a 23 year old who loves fashion – thankfully not fast fashion but I do love a good designer piece. I've bought too many disposable coffee cups to count. I only bought a reusable water bottle 2 months ago, and, until two weeks ago, I truly believed I was blind to the amount of plastic I use. This is why when Lush invited my sister and I got go to Berlin on a 24 hour plastic-free challenge, I jumped at it.
Over the past 24 hours of my trip I've decided there's a few things that need to either be made more mainstream or actually created without plastic, most notably, toothpaste. After walking around 6 shops, my sister eventually found a brand which had a metal casing although it still had a plastic top it. We need more choices. Also let's be honest, how many of us actually have the time to walk around 6 shops looking for toothpaste? Finding an acceptable toothbrush is also a source of pain. Wooden/bamboo toothbrushes are available but they are not sold everywhere. I don't know about you but I usually buy my toothbrush when I'm doing my food shopping and it would be great to have an option that wasn't polluting our planet. Don't get me started on makeup. This one is a massive problem and one that needs addressing in an article of its own. I guess I just feel lost and hopeless in finding a solution. Even getting something so simple as water, it's all very well bringing your own bottle with you but there aren't enough water points. We live in a world where alternatives can be found online but we shouldn't have to hunt them down and not everyone has the time to do so or will want to make the time, it all has to be made easier.
Lush, you're doing an incredible job. You are working on solutions, you are encouraging discussions, you are sharing knowledge and are making a change to the world and to the way others view products. When I was in Berlin I had the privilege to visit a Naked Shop where all products sold had no packaging, amazing I know. There were a few items that I got very excited by. My favourite one I actually took home with me - Mortal Kombu an under-eye sheet mask made out of seaweed. It wasn't until that moment that I realised quite how bad sheet masks are for our environment. Oh, and I was very excited about the Atmospheres - little shower gel pods that are coated in seaweed too. I recently saw a viral video on Facebook about coating liquids in biodegradable seaweed instead of plastic, so it was great to see Lush putting this into action! It's weird, I thought a store with no packaging would seem impractical to me but it didn't. It actually just made so much sense.
A week has now passed since I travelled to Berlin with Lush and everytime I go to buy something plastic I feel guilty. Although this is incredibly exhausting, it is also a positive thing. Every time I go to buy an item that's plastic or covered in plastic I think to myself "Is this a necessity, do I need it or is there an alternative option?". If everyone in the world did this, our waste would be reduced by a phenomenal amount. What I've learnt is that it definitely isn't practical to live plastic-free for everyone - we are all in different positions, we all have different lives and are living different stories. What we CAN all do is think before using plastic. Think about bringing a bottle to refill before you leave the house. Think about whether you need to buy your bananas in a plastic bag. Think about the small changes you can make in order to make a big difference and I truly hope that if we all do this, the big companies will start thinking more too. Don't worry though Lush, you're already way ahead of the game.
Want to know more about going naked? Click here to learn about the Naked shops, how you can cut down on plastic or to get your hands on some fresh, naked goodies