Everything you need to know about recycling our black pots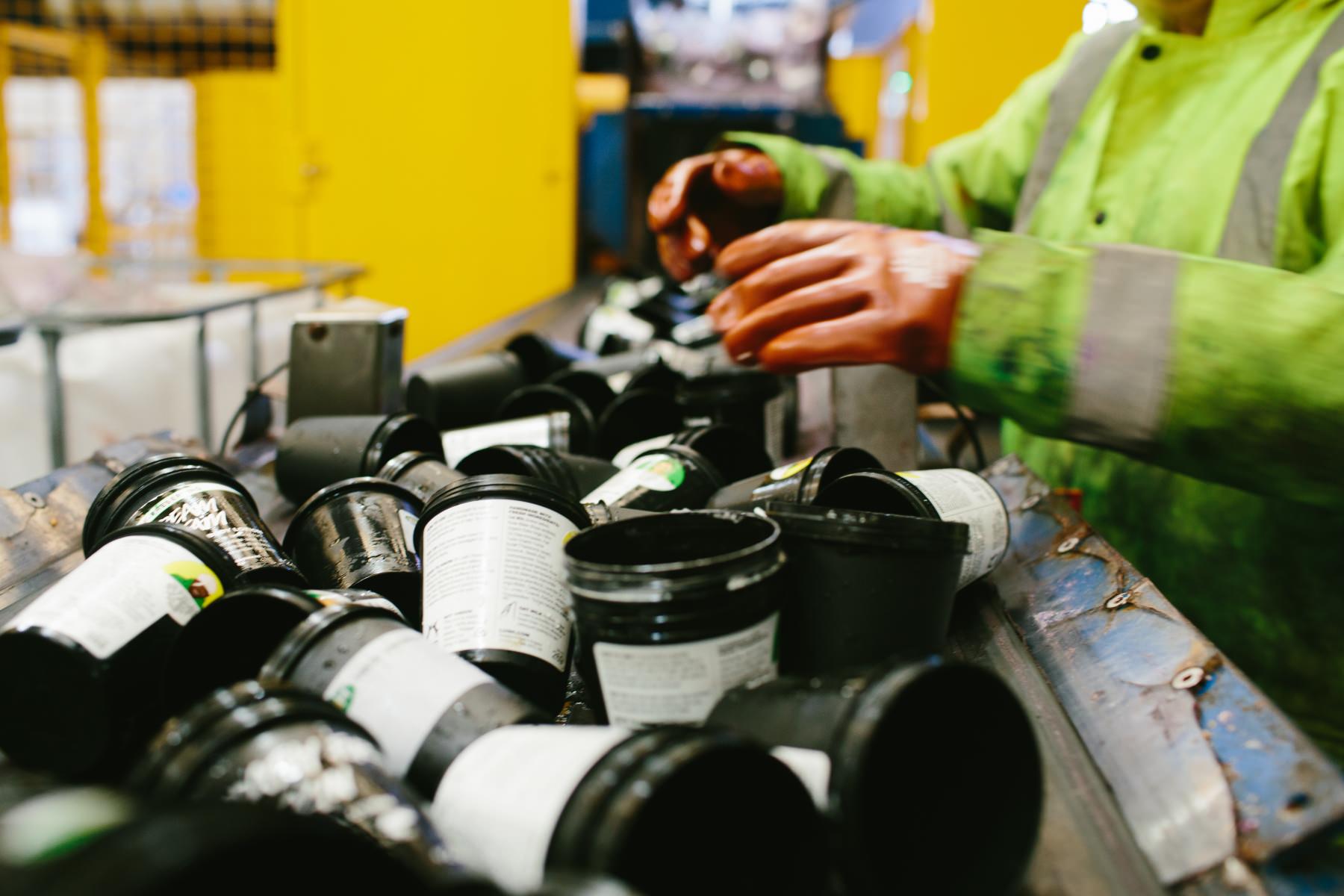 Your Lush black pot could have more lives than a cat. Made from a sturdy polypropylene plastic, these humble, recycled containers have more than one ace up their metaphorical sleeves.
We'd love to serve all our products up naked. But when it's not possible (yet!), we call on our range of notably plain black pots, made from a mix of purchased recycled plastic and recycled black pot material, to safely house your favourite creams, gels and lotions. Why not the ribbons, sparkle and extra packaging? Because keeping things simple ensures customers pay for the ingredients inside their product, not the distractions on the outside.
Using these simple black pots has another key advantage too: a sustainable recycling scheme that enables them to come back to life more times than an Eastenders cast member. Here's how they do it.
When black pots come back to our shops, they hitch a ride back to Poole, Dorset, with the same trucks which deliver fresh products. At the Green Hub (Lush's in-house recycling centre), the pots are chipped down, washed and dried in a machine called a granulator. The little pieces of plastic are then ready to be melted down and reformulated into new black pots - a part of the process the Green Hub hopes to be able to do in-house in the future with increased returns of black pots.
These shiny new pots are then ready to be filled with fresh product and delivered out to customers and shops (who can, of course, save, clean and return their pots once more).  Returning your clean black pots in this way will contribute to our in-house closed loop recycling scheme, meaning we can melt down and reformulate these black pots again and again. You'll get a fresh face mask for your troubles - and we'll get another chance to reduce plastic landfill waste.
And it's not just black pots which can be recycled in your local Lush store. Here's a breakdown of the other kinds of material you could find at your local Lush - and how to reuse or recycle each one.
We use recycled PP to make black pots, bottle tops, lipstick tubes, powder make-up containers and some of the lids you'll find dotted around the shop. Look for the label which tells you what can be returned for a fresh face mask! Shop blackboards and product labels are also made from PP - a virgin kind this time, but completely recyclable and reusable after use.
We'd love to be able to use PP plastic for our product moulds, as tests show it may have more resistance to sodium bicarbonate, but this type of vacuum forming is not yet widely available for PP. In fact, the high temperature varies so much that PP is likely to be melted and ruined. Recycled PP also has a different melting point to virgin PP making it risky for suppliers to trial! We're working on it, so watch this space.
You know the kind: shower gels and liquid shampoos rock up in these clear bottles which have a funnel top to ensure optimum squirtiness. These bottles are made from a type of plastic called PET (Polyethylene terephthalate). You'll recognise PET plastic as the type of material bottled drinks come in - luckily PET plastics are more easily and widely recycled by local councils than PP (which is why we love to get those black pots back). You can easily recycle these bottles at home with your local council.
When it comes to creating gift boxes, there are a number of different techniques involved. These include rigid, handmade boxes which are printed and made using recycled card and recycled cocoon paper, fluted boxes (which have a wavy line between the two sheets of cardboard) and handmade pulped baubles used to create rounded shapes. All can be reused and recycled.
Gift tags, gift wrap and the What's Inside My Gift booklet nestled inside are also made from 100% recycled paper or recycled cotton, and can be reused or recycled again at home. Unwrap your gift and you'll discover a flurry of protective eco flo: a fantastic alternative to polystyrene that has a potato starch base and biodegrades quickly in water and soil. Squidgy or delicate items are carefully wrapped in biodegradable cellulose wrap which can be added to your compost pile.
Peruse the gift wall at your local Lush, and you'll see an eye-catching array of ribbons. A number of the satin and grosgrain variety are made from plastic bottles collected in Italy. These are transformed into a PET plastic yarn and turned into ribbons. We also source ribbons from a third generation family business in Germany. This larger site originally specialised in raffia ribbons, but now makes decorative ribbons, mixing warp and weft materials to create vibrant colours.
Upcycle your ribbons by using them to wrap another gift, as a decoration, or in your hair - the options are endless.
Homepage - Everything you need to know about recycling our black pots