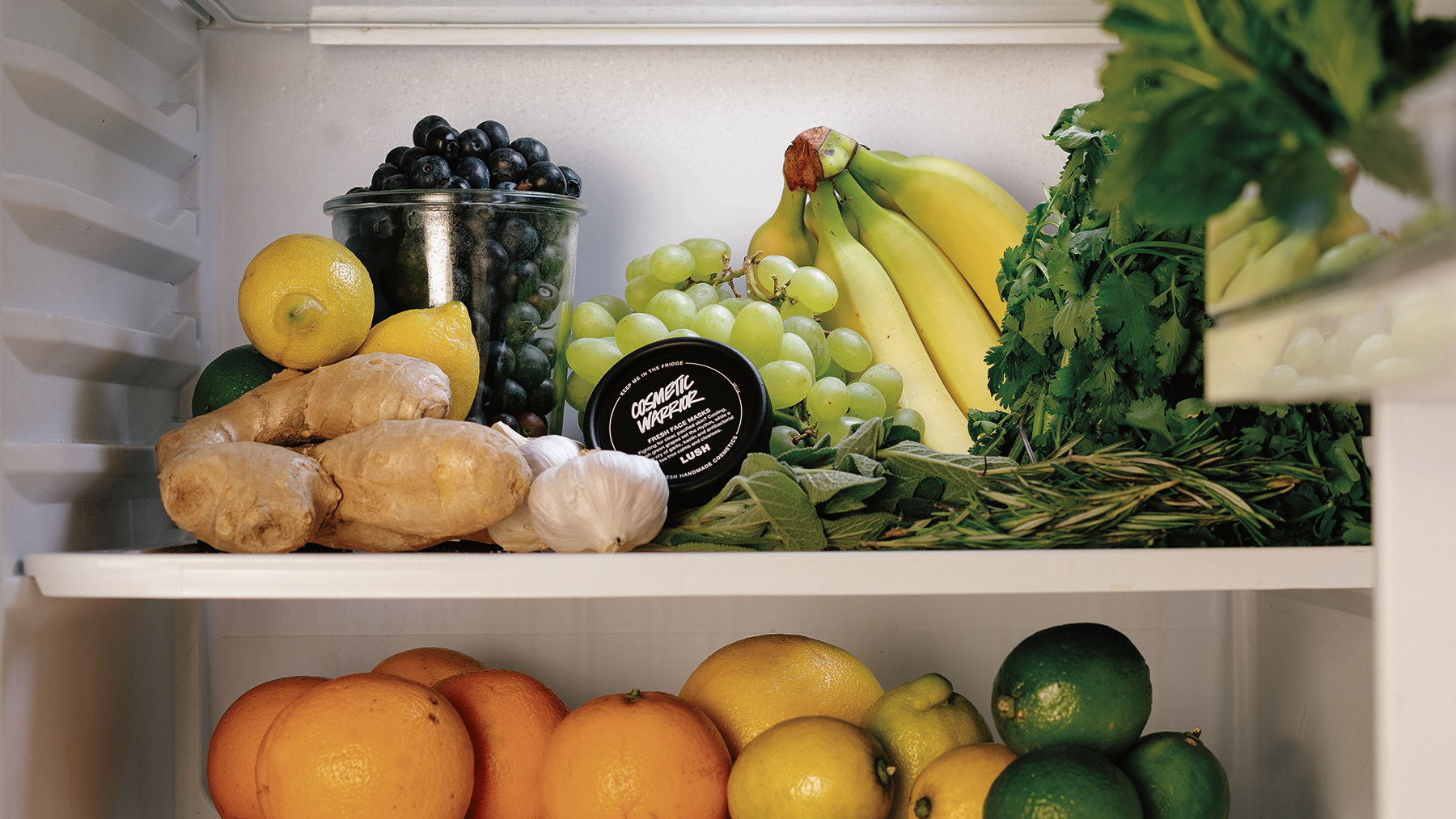 Fresh at Lush is what we do, from face masks packed in ice to our newest subscription box, we still believe fresh is best.
We're simply besotted with freshness! Using fresh ingredients has been in our DNA since our inventors began creating products. Almost every day, Lush factories receive deliveries of fruit and vegetables. These are peeled, blitzed, boiled or mashed into any number of our products from shampoos to body lotions.
We aim to get products out of our factories and into your hands as soon as possible for maximum freshness, and our face masks are ultra fresh. We rush them straight to our shops (or your door). They need to be refrigerated and used quickly.
In the early days of Lush, we even named our face masks as Ultrafresh and served them in fresh fruit skins! You could pick up your Volcano foot lotion in a tomato! You would scoop out Cosmetic Warrior from inside a lemon.
If you find yourself thinking the fresh face masks in our stores look good enough to eat (we don't advise), that's because they inspired by a visit to a delicatessen over thirty years ago where ingredients were on display in shiny silver bowls.
Blueberries, honey, oats, almonds, grapes, garlic, tofu, lemon and lime juice, ginger and parsley are all on the list of ingredients. Nutritious fruits, oil-controlling herbs, skin-firming clays and effective essential oils are all used in our face masks for their powerful effects, and we want you to use them fresh, so they are at maximum potency.
In 2019, we channelled our obsession, and announced it proudly to the world by opening a Lush Fresh & Flowers shop in Paris. It's bursting with freshly made face, body and hair products.
Everything in the shop needs to be used within a few days (or less) to make the most of the natural benefits of the ingredients. We use the local and seasonal bouquets of flowers that we sell alongside our products to make some products instore on the day too.
And now in 2021 we want to bring the freshest cosmetics to your doorstep with the Fresh and Flowers subscription box. Each month you'll receive products packed with ingredients fresh from the field, that are chopped, blended and whipped, made in our kitchens and sent to you, the day they are made.
You won't find fresher products than ours, we're on a never-ending mission
https://youtu.be/O6xNH8qmJcg