Reusable packaging: gifts that keep on giving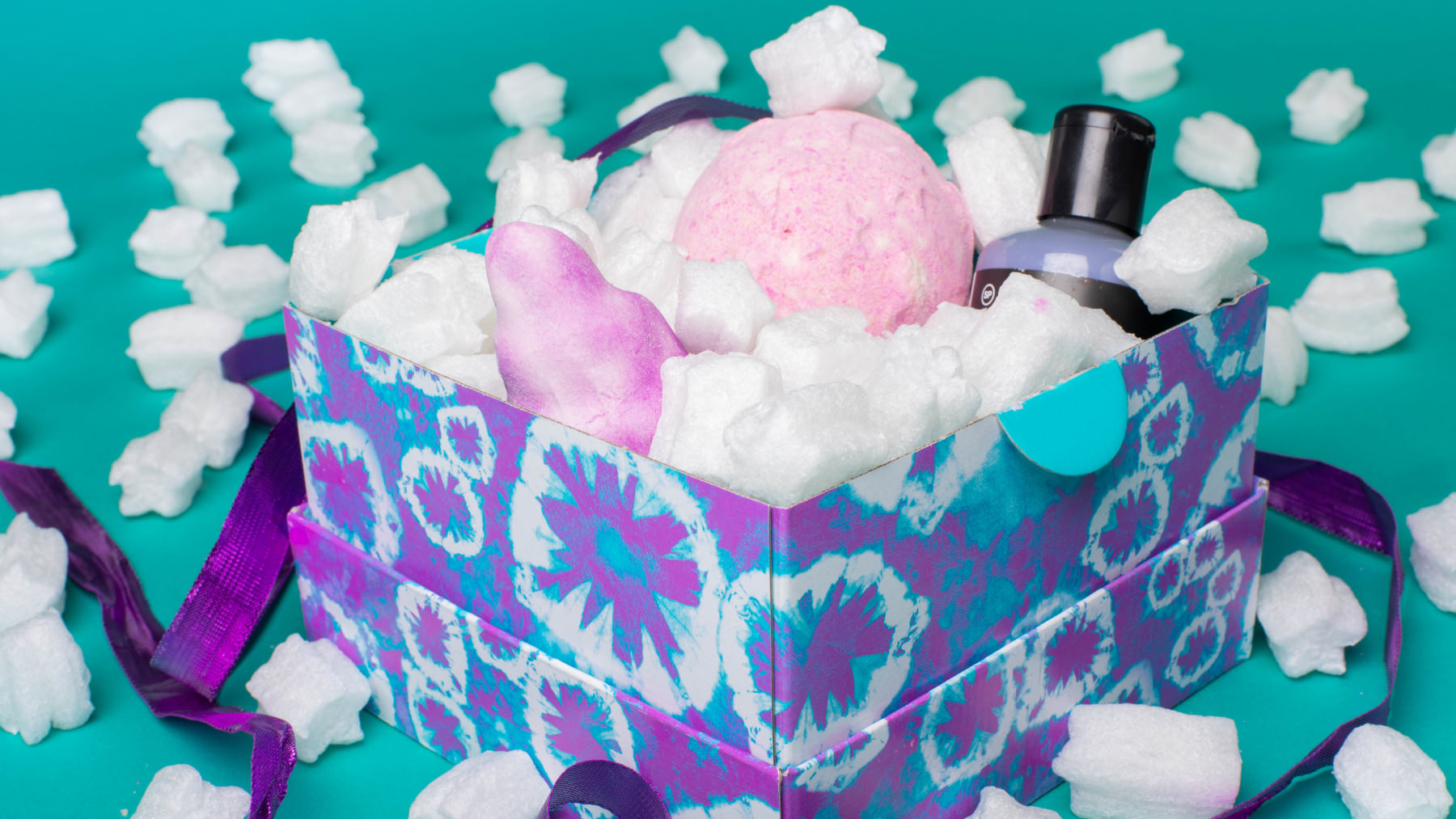 Stack 'em, wrap 'em, and pack 'em! Whether you are the giver or the receiver, everyone loves a big reveal. The gift industry, however, can be a difficult space to navigate when searching for an eco-friendly present that has a positive impact on the planet.
This is why Lush has been lifting the lid on truly ethical and sustainable gifting, starting with creating gift boxes, tins, and tubes that can be reused, repurposed and reloved.
Whilst we are faced with the alarming rise of deforestation, endangered ecosystems and climate change, finding an ethical gift that supports local artisan makers, and has reusable packaging can be very tricky.
The Lush creative buyers have been busy thinking outside the box by looking at our relationship with gift packaging. With beautiful designs to cherish, repurposing is at the heart of your most beloved Lush gift sets. After all, a box should be for life, not just for Christmas. 
Keepin' it tin the family 
When we think of recyclable and reusable packaging, tins really take the biscuit. With wonderfully intricate designs, often embossed or fluted, tin boxes provide us with sturdy storage solutions and a keepsake that can be cherished and passed down from generation to generation. With repurposing in mind, our beloved gift tins are known to go on and become the home of trinkets, biscuits or that special space to stash your Lush goodies. 
Creative buyer Nick Kendall says, "Once the design team have created their designs, we look at the possibilities for a piece of packaging and the best way to source it and its life after being gifted. The keepability of a tin pushes it into an extremely reusable piece of packaging; it can be regifted and reused many times and you get 100% of the material back out of it when recycled which is great."
This year's 100% recyclable gift tins include Santa's Grotto which is produced in Germany, and the fluted tins with slightly more complex designs like the Gingerbread House gift are produced in China. Throughout the year, the factories are independently audited to make sure staff are getting a high level of welfare, and to check production standards are just as high.
We've got square ones, we've got round ones, we've even got ones with eight corners, and the one thing they have in common? They have been designed to 'stack' around. Our printed gift boxes break boundaries with their eye-catching designs and unusual shapes, so you can regift them, or keep as a handy home for craft supplies. So as you unravel the ribbons unbox your imagination and let the many possible reasons to reuse come to life. 
Since 2010, Lush has worked with a local UK supplier where creative processes such as the constructional design, digital prints, and die-cutting all happen in-house. They print lasting and decorative designs onto the recycled cardboard so that the versatile storage space also doubles up as gift wrap.
Once printed and cut, an assortment of boxes are sent to the Lush gifts department flat-packed on pallets and ready to be assembled by the helpful Lush elves. By flat-packing their products, the supplier is now able to fit 64 pallets worth of pre-assembled boxes onto just six pallets! This helps to keep their carbon footprint from transportation at a minimum. 
When the boxes spring to life, they are filled with Eco Pops, Lush UK's biodegradable packaging pops, to protect the sustainably sourced cosmetics.
In 2018, over 202 tonnes of recycled board was used to create the printed boxes for the seasonal gift ranges. This is the equivalent weight of 1,212 adult reindeer! This year there are 18 uniquely designed boxes in the gift range such as Big Bang, and over 89% of these boxes have been made with 100% recycled materials. When looking for sustainable gifts it sure is hip to be square.
Round, long, and incredibly strong, our gift tubes are made from layers of paper. Making sure the contents of your gift arrive in a totally tubular condition, the reusable paper tubes are sure to get those festivities on a roll! Layers upon layers of paper are laminated together to make a thick and sturdy plie, before being wound around a mandrel to create the cylindrical shape.
Once the tube is wound, they are then cut into long lengths before the gift label wraps are applied, giving the tubes their distinct designs and place in the Lush gifts collection. So after the lids have been popped open, and the festivities are winding down, why not repurpose your tube into a stationary pot or a trusty bath bomb tube?
Explore an explosion of colour and reusable packaging of all shapes and sizes in the gifts collection. Each gift has a story, what will yours reveal?
Homepage - Reusable packaging: gifts that keep on giving