Goddess
Bath Bomb
Seductive oudh and jasmine soaks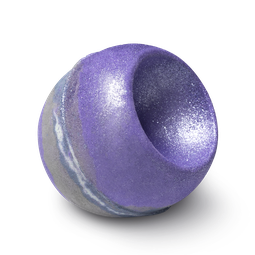 "This is my favorite bath-bomb ever. It literally does everything you want from a great bath-bomb: incredible smell, that lasts even after the bath, beautiful colours and glitter, silky feeling skin, and extremely relaxing." - rebel yell

"This bath bomb is seriously beautiful. It turns the water a light shade of lilac with a bit a shimmer here and there. My skin feels so smooth and I felt relaxed every moment I was in the bath!" - Ozzie311

"I like this bathbomb because of its lingering exotic scent that comes from the oudh oil in it. Its kind of an incense-y smell and it smells GREAT on the skin for a long time after bathing." - AlcatrazTwo
How to use:
Drop this ethereal bath bomb in a hot soak. Feel your mood ascend as alluring jasmine absolute seduces you into oudh-rich, shimmering lilac waters.
How to store:
Store in a cool dry place, best used fresh to feel like a Goddess. 
Did you know?
Over 25 years ago we invented the bath bomb. Our fizzing bicarb beauties provide an immersive aromatherapeutic bathtime like no other. All this and no packaging too...
Fighting animal testing
We have been fighting against animal testing since before we opened our first shop, and the fight continues today. We test products on humans and promote, fund and use alternative testing methods entirely animal and animal-product free. Find out more