Square Tin
Product Holder
No more melting moments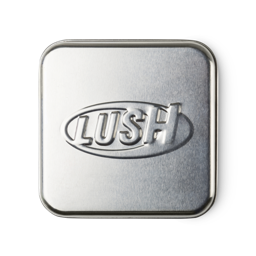 "This is what I've been looking for my whole life! It is a total life saver! I would definitely recommend this to anyone using hair products or even things in the bath to keep them in to stop them from drying out or becoming too wet. I would say this is better than the round or oval tin as it easier to get a bar out in the shower using space in the corners. Anyone who is a regular lush user needs this!!!" - SY16McEvoy-C
"It's current holding a solid deodorant (dunno what it's called, too lazy to check) which I'd cut into three. Holds it well. I've yet to go to my tin and find the deodorant missing. I'd call that worth the money." - reelee_560148
"I use my square tins for the conditioner bars as they are too big for the round tins and this holds them perfect. Keeps them dry and safe..." - consistantsusa
How to use:
A tin to treasure your body butter on your travels. If you keep your body butters in the shower, you'll notice they may look a little less beautiful than when you first bought them. Don't hold it against them: they are made of shea and cocoa butters, after all, which do tend to soften under hot water. Allow to dry, then pop in this tin.
What does this hold?
- 1 x Body Butter
- Currently used products for travels or for keeping fresh!
Fighting animal testing
We have been fighting against animal testing since before we opened our first shop, and the fight continues today. We test products on humans and promote, fund and use human biology relevant testing methods entirely animal and animal-product free. Find out more