The Comforter
Bath Bomb
Reassuring fruity pink clouds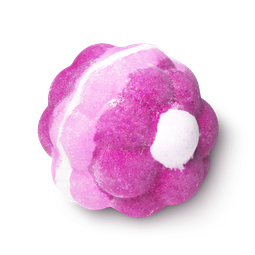 "Absolutely loved this bath bomb. Could immediately smell some kind of scent that gave off very relaxing and sleepy vibes and also a lovely fruity fragrance when dissolved. Made my bath water a very pretty pink. Would definitely repurchase and would recommend." - greer

"Such gorgeous colours that exploded out of The Comforter and loved the pretty, little pink bubbles to come with the pink bath water. The smells were fruity and soothing, really helped me unwind after a long day." - rnewboult_66587

"True to its name, this wonderful bath bomb helps me slip into a comfortable, relaxed state of mind. As I lay in the beautiful shade of pink, I am at one with myself. It has a sweet aroma, and the fun raspberry like shape gives it a funky playful side that lures you in all the more." - morganbiscuit
How to use:
To feel wrapped in a blanket of blackcurrant and cassis, fill up the bath and drop in. Brightening bergamot will help lift your mood while soothing cypress oil ushers in a tide of comfort and joy.
How to store:
Store in a cool, dry place, ready for your next blissful bath. 
Did you know?
Over 25 years ago we invented the bath bomb. Our fizzing bicarb beauties provide an immersive aromatherapeutic bathtime like no other. All this and no packaging too...
Fighting animal testing
We have been fighting against animal testing since before we opened our first shop, and the fight continues today. We test products on humans and promote, fund and use alternative testing methods entirely animal and animal-product free. Find out more