Marron Henna
Henna Hair Colour
A warm chestnut brown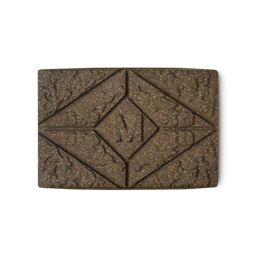 Reformulated (again) with your feedback! We've increased the cocoa butter levels again, so you can get back to the colour you love.
Glaze your hair strands with our henna hair dyes, varnishing the outer layer of your hair with a tone of your choice.
What's in it for you?
Henna, indigo, hibiscus and coffee combine to give sumptuous chestnut-brown colour with glints of red. Our 100% natural hair dye is ideal if you have an existing hair dye allergy, are looking for a safer alternative to synthetic hair dye or just want shiny, healthy hair.
What colour will your hair go?
Marron adds rich burgundy henna tones to brunette hair or depth to redheads. To glaze blonde, white or twinkly grey hair with warm auburn brown hues, you'll need an initial base coat of our Rouge henna brick. If you desire the reddest version of Marron, be sure to use our reusable Henna Hair Wrap throughout the development process. Got a burning question? You can make sure henna is the right choice for you by reading our FAQ.
How does it work?
Henna contains a pigment called lawsone that has an affinity to the keratin in your hair. It adheres to the cuticle, adding a layer of sheer colour without changing your natural hair colour. This will very gradually fade over time. Henna can be used to help bind other materials to the hair like the indigo, hibiscus and coffee in this brick, which create warm shades of brown - a technique historically made famous by the Iranians. Our addition is cocoa butter which softens and aids slip through the hair as you apply and enables us to make a self-preserving product.
How to use:
Henna is a gloriously messy, hippy process - and the idea is to get as much of it onto the hair as possible! Our essential bamboo henna application brush is ideal for getting extra precision, and our reusable Henna Hair Wrap is perfect for wrapping your hair colour while it develops for redder results. Our unique cocoa butter henna brick is designed to be enough for one head of mid-length hair and melts down with hot water into a rich paste, which you should apply generously. See our top tips for application here.
What's in it for the planet?
Synthetic hair dyes contain chemicals known as aromatic amines that are not only associated with health risks, but may bioaccumulate in our ecosystem. Hair salon wastewater has been found to contain colour molecules unconsumed by the dye process, as well as mutagenic byproducts, that are not believed to be effectively removed from our water systems. Choosing a plant-based, ppd-free hair dye like Lush henna reduces the number of these materials in circulation.
How to store:
Your henna brick will arrive in a beautiful recycled paper packaging, with designs inspired by the organic, floral henna designs traditionally found in Middle Eastern and Asian skin art. Keep your henna brick in its wrap in a cool, dry place, ready for when you use it. Henna bricks are best used fresh and you can put any leftover melted henna in your compost.
To continue our commitment to reduce single use plastic, your henna will no longer come with plastic gloves. Please protect your hands with some trusty reusable rubber gloves.
Fighting animal testing
We have been fighting against animal testing since before we opened our first shop, and the fight continues today. We test products on humans and promote, fund and use human biology relevant testing methods entirely animal and animal-product free. Find out more