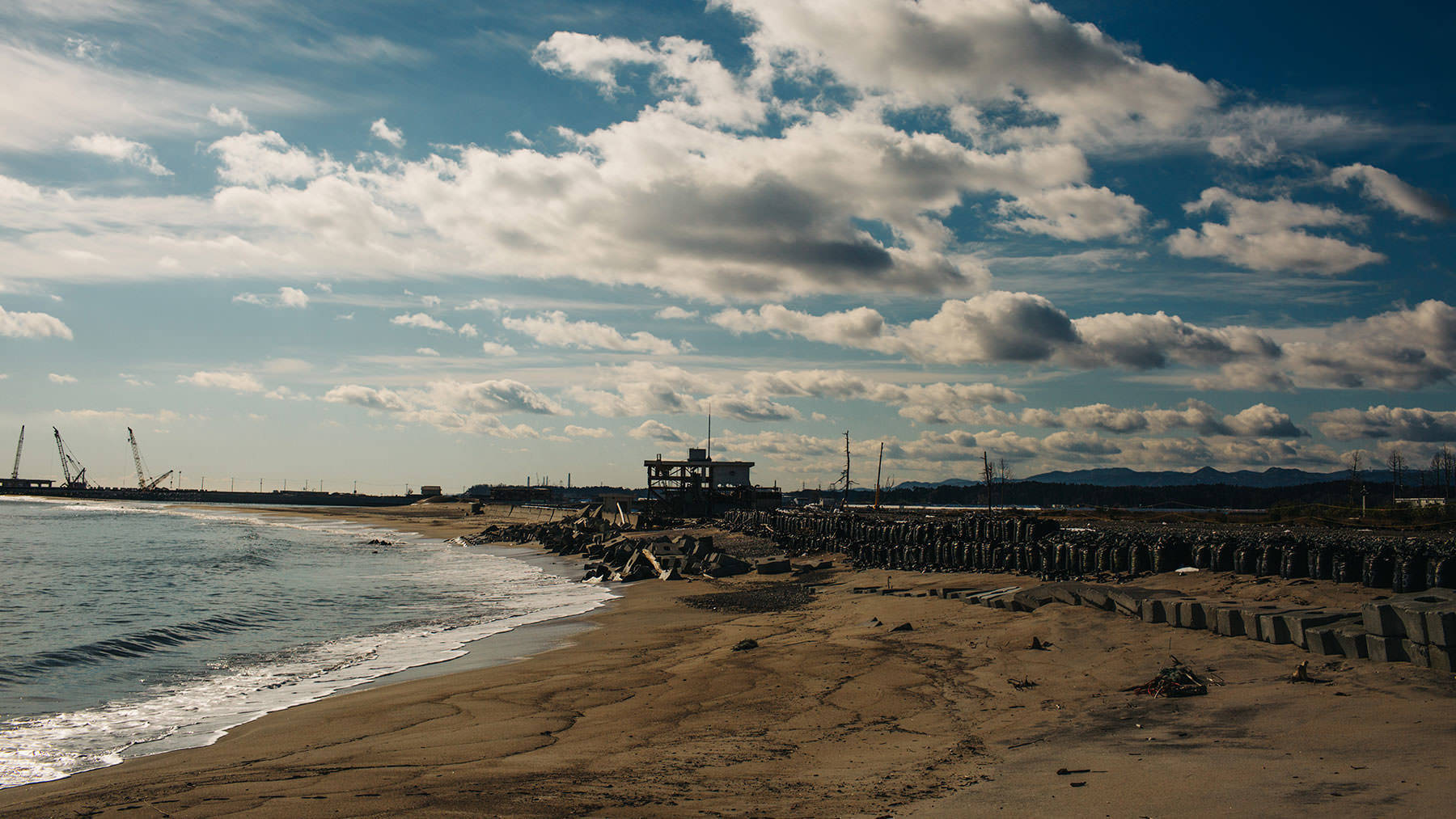 At 2.46pm (05.46 GMT) on March 11th 2011, the ground of Northeastern Japan shook furiously for six minutes.
A magnitude-9 earthquake had struck offshore, east of Tōhoku. And, like the teetering collapse of the first domino, had set off a chain of devastation that resulted in the loss of nearly 16,000 lives, triggered a triple meltdown at the Fukushima Daiichi Nuclear Power Plant, and ravaged Northeast Japan. The structures that remained standing had tilted, shifted and sunk as much as four feet deep while the ground below behaved like liquid. The soil had been severely contaminated.
Mr Sugiuchi, an organic rice farmer who had spent 18 years tilling the fields of Minamisoma, survived. Located 25km away from Fukushima Daiichi Nuclear Power Plant, his land was contaminated with dangerously high levels of caesium: 'Although all the rice produced in Fukushima prefecture was inspected and shipped out only when its safety was confirmed, as a result of reputation damage our rice could no longer be sold. Our motivation slowly began to disappear', said Mr Sugiuchi. 'We had nothing left to do and many of us simply had to stop farming.'
The largest recorded quake in the nation's history triggered a series of questions, particularly as much of the long-term damage was man-made: a result of the Fukushima nuclear disaster. When Hiroko Tabuchi, a Tokyo-based reporter for The New York Times visited the area after the quake, she was handed a letter from Tomoko-san, a mother of two in Fukushima. She was urged to translate it for the world. It read: 'I was eight years old when the Fukushima Daiichi plant opened. If I had understood what they were building, I would have fought against it. I didn't realise that it contained dangers that would threaten my children, my children's children and their children.'
The first question for Mr Sugiuchi was: 'How can we revive a community?' He reasoned that 'First we have to face reality as reality. Then, from there, we have no choice but to consider what we can do. For me, that was preventing the further ruin of the land, and finding a practical way to move forward.'
The first clue came from Chernobyl, Ukraine. Perhaps unsurprisingly, in the days, weeks and years following the disaster, commentators frequently looked to Chernobyl. Having experienced its own nuclear accident in 1986, it was often the only comparison available when trying to hypothesise on the possible grim, long-term effects for Fukushima, such as increased instanced of thyroid cancer. Three months after the accident, it provided Mr Sugiuchi with ideas for regeneration.
He was invited to Tochigi, the prefecture below Fukushima, to learn about rapeseed and its startling ability to enable decontamination in areas of Ukraine. What makes rapeseed so useful is its capacity to remove some radioisotopes from soil, including irradiated caesium. Caesium is water-soluble and is therefore taken up in the rapeseed plant while the oil obtained from its seeds remains free from contaminants, able to be extracted and used safely as cooking oil, biofuel and in cosmetics.
'Another thing I gained from learning about rapeseed oil production was the idea of connection between people. After the disaster the streets were deserted, and people didn't leave their houses much; in this sort of environment, one's point of view begins to narrow and you start to feel shut in.' said Mr Sugiuchi.
In Autumn 2011, he planted the first rapeseed on his land. By September 2014, 'Yuna-chan' rapeseed oil was sowing the seeds of community again with local high school students helping in the harvesting and branding of the product.
Five years on, the surrounding area reveals snapshot scenes of recovery. In vending machines in Namie, a town near to the power plant in the no-entry zone, soft drinks packaging advertises to empty buildings. Bicycles, small and large, line racks, unclaimed by their owners and stacks of unread newspapers from the day the tsunami struck fill blue-netted bags.
The only thing absent is people.
Workers, slowly but laboriously, clear away the devastation before returning each night to temporary housing outside of the immediate no-entry zone. In these outer zones, the landscape is piled with unmoving traffic jams of industrial black bags. Each is awaiting incineration, filled with contaminated topsoil and debris.
Meanwhile, Mr Sugiuchi's crops dance in the wind, starkly contrasting the surrounding area and bringing with them 'a sense of happiness returning'. Canary yellow blooms grow to waist height in season, before a dusting of thick, winter snow returns to cover them, insulating the roots.
The rapeseed is an emblem of ambition for the village of Minamisōma where Mr Sugiuchi, NGO activist Mr Toshihisa Kamitani and fellow farmer Mr Kenro Okumura have set up Minamisoma Agriculture Regeneration Council. Minamisoma is an area where the evacuation order has been lifted, and in which living and farming (below 20mSv/year) is safe and permitted. As an additional safety measure, farmers always wear masks and remain in their vehicles while harvesting. Residents of the town are provided with devices to measure the level of external exposure to radioactivity, and are also able to take their food and water supplies to be tested at a radiation measuring centre. 
What's more, in The Renewable Energy Village solar panels line the roofs of greenhouses, holding up a middle finger to the aftermath of unsustainable energy around them. Soon, the group plans to be able to sell the energy back to the community and Mr Sugiuchi 'wants to continue into the future aiming to produce biofuel with our oil and create a system in society that doesn't burden the Earth. I think moving toward these goals is connected closely to the restoration of our region.' In all his projects, there is a common theme: they nurture human connections and bridge the generations of Minamisoma.
Across the world, eyes are watching Fukushima. In a region that has previously been seen in photographs of abandonment and devastation, a model for regeneration and future energy is growing unabated.
After seeing how this wonderful crop was helping to regenerate the land and the community in Fukushima, it made sense to include it in a finely crafted gourmet soap. It is blended by hand with tofu and mushrooms and named Tsunagaru Omoi, which means connecting hearts. The growing of rapeseed represents hope for the future for the communities affected by the disaster.
The soap launched in Japanese shops on March 1st 2016, to mark five years since the tsunami. This coincides with the Japanese gift giving holiday, White Day, on March 14th, exactly a month after Valentine's day. The holiday connects hearts all over the nation so is a perfect opportunity to give support to those communities still rebuilding their lives in the aftermath of the disaster.
To find out more, why not watch a video of the Fukushima story here? You can send a message of support to those recovering by using the hashtag #ForFukushima on Twitter and Instagram. You can also pick up a 4-in-1 bar of Fun: 10 pence from every 200 grams sold goes to grassroots organisations providing recreational activities for children affected by the Fukushima Daiichi Nuclear disaster.​
The safety of our customers, employees and the materials we use is important to us.  In order to ensure the cotton and rapeseed oil we use in our new products is completely safe, we measure them to the EU criteria surrounding radionuclide levels for foods imported from Japan following the 2011 Fukushima nuclear disaster, as per the Commission Implementing Regulation (EU) 2016/6.  Specifically, this regulations stipulates restrictions on the maximum levels of caesium-134 and caesium-137 present in foods.  Each lot of rapeseed oil is tested in Japan to measure the radionuclide levels.  When we first started working with the Fukushima rapeseed oil in 2015, we commissioned additional tests with a UK lab to get independent results.  In both instances, the results came back below the individual laboratory's Limit of Detection (LOD), which is 10 Bq/kg for the UK laboratory and 0.022 Bq/kg for Japan, for both caesium-134 and caesium-137.  This is far below the levels considered acceptable for food imported from Japan, which is set at 50 Bq/kg for infant food and 100 Bq/kg for other food.