Noir Henna
Henna Hair Colour
A lustrous deep, cool coffee brown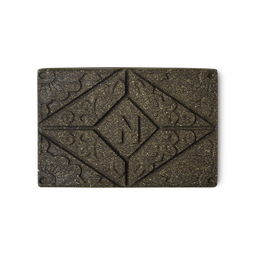 Click and collect

Pay online, collect in-store
Product update - 21/10/22
You told us the new henna bricks weren't up to scratch, so we've listened and we're busy putting this right. We don't expect this to take long, but if you're a regular henna user, don't despair - sign up to the customer newsletter to be kept up to date on exactly when you can get your hands on your favourite herbal hair dye.
What's in it for you?
A beautiful blend of indigo, henna and noni fruit deliver a cool-toned, nut brown glaze with head-turning shine. Our darkest colour, this henna hair dye is ideal if you have an existing hair dye allergy, are looking for a safer alternative to synthetic hair dye or just want shiny, healthy hair. 
What colour will your hair go?
Noir adds beautiful rich raven hues to brunette hair, and can be used after a base layer of Lush's Rouge henna brick to tint fairer hair a cool brown or to give greying hair a twinkly highlights effect. 
How does it work?
Henna contains a pigment called lawsone that has an affinity to the keratin in your hair. It adheres to the cuticle, adding a layer of sheer colour without changing your natural hair colour. This will very gradually fade over time. Henna can be used to help bind other materials to the hair to create brown shades, like indigo and noni fruit - a technique historically made famous by the Persians. Our addition is cocoa butter which softens and aids slip through the hair as you apply and enables us to make a solid, self-preserving product.
You can make sure henna is the right choice for you by reading our FAQ.
How to use: 
To get the best results, please closely follow our how-to-use steps here.  Our unique cocoa butter henna brick is designed to be enough for one head of mid-length hair and melts down with hot water into a mousse-like blend which you should apply generously. We recommend doing a strand test first to make sure you are happy with your chosen shade - ask us in-store for a sample. 
What's in it for the planet?
Synthetic hair dyes contain chemicals known as aromatic amines that are not only associated with health risks, but may bioaccumulate in our ecosystem. Hair salon wastewater has been found to contain colour molecules unconsumed by the dye process, as well as mutagenic byproducts, that are not believed to be effectively removed from our water systems. Choosing a natural dye like Lush henna reduces the number of these problematic materials in circulation.
How to store:
Your henna brick will arrive in a beautiful recycled paper packaging, with designs inspired by the organic, floral henna designs traditionally found in Middle Eastern and Asian skin art. 
Keep your henna brick in its wrap in a cool, dry place, ready for when you use it. Henna bricks are best used fresh and you can put any leftover melted henna in your compost.
To continue our commitment to reduce single use plastic, your henna will no longer come with plastic gloves. Please protect your hands with your trusty reusable rubber gloves. 
"Henna applications remind us of the importance of self-care. This is not a beauty treatment to be rushed, but savoured."
Milly Ahlquist, True Colours: Hair Colouring for the Curious and the Cautious
Fighting animal testing
We have been fighting against animal testing since before we opened our first shop, and the fight continues today. We test products on humans and promote, fund and use human biology relevant testing methods entirely animal and animal-product free. Find out more