Perfumes: The A-Z Guide by Luca Turin & Tania Sanchez
Book
Review and be damned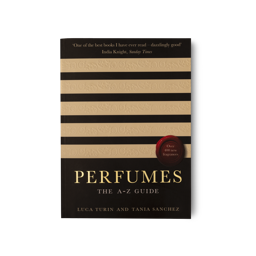 Click and collect

Pay online, collect in-store
'A dazzling guide to contemporary perfumes and perfumers. Just glance at one entry and you will want to read them all.'
Mark Constantine, Perfumer & Lush Co-Founder

Perfumes: The A-Z Guide is the culmination of LucaTurin's lifelong obsession and rare scientific flair, and Tania Sanchez's stylish and devoted blogging about every scent that she's ever loved and loathed. Together they make a fine and utterly persuasive argument for the unrecognised craft of perfume-making. Perfume writing has certainly never been this honest, compelling or downright entertaining.

This book features numerous, humorous reviews of perfumes throughout. For Lush's perfumers, having their creations featured amongst this book's pages can conjure a sense of huge excitement, or nerves. Lush has a number of perfumes reviewed between this book's pages, including Dear John, Karma, B Scent, Cocktail and Dirty.
Fighting animal testing
We have been fighting against animal testing since before we opened our first shop, and the fight continues today. We test products on humans and promote, fund and use human biology relevant testing methods entirely animal and animal-product free. Find out more
Homepage - Perfumes: The A-Z Guide by Luca Turin & Tania Sanchez