Ginger
Perfume
Retro floral with a spicy kick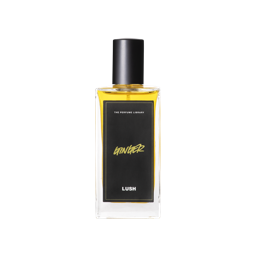 "I have been praying you'd bring back ginger! I'm so happy! It is like no other perfume I can find! It has got that sophisticated depth of smell, and it is strong and comforting all at the same time! I have tried and enjoyed many of your perfumes and have been a loyal customer for decades, even since 'cosmetics to go'. I will always happily try new things however to me Ginger is perfection! Thank you!" - mangajude
"This is one of my favourite (family of) Lush perfumes, and I have been lamenting it's absence for years. So for the sake of the poor staff of my local shop, thank goodness those at head office have brought it back into general circulation again! (Needless to say, I went down and purchased some as soon as I could.) Why is it so special to me? Well, I appreciate different perfumes work individually on different people, but when I put this on, I really feel like a 40's movie star, and the scent lasts all day. The glamour this perfume exudes is just gorgeous, you walk a little taller wearing it. On top of that, you get to smell it all day long - what's not to love!" - Ma Pixie
How to use:

Unique and distinctive, couldn't the same be said for you and I?
Maybe, when you spritz yourself with this elegant but enlivening blend of spicy ginger, mimosa and sandalwood, that unfolds slowly with the warmth of your skin.
---
Explore

Your order will be expertly protected by biodegradable Eco Pops, easily dissolvable in water or soil.
Fighting animal testing
We have been fighting against animal testing since before we opened our first shop, and the fight continues today. We test products on humans and promote, fund and use human biology relevant testing methods entirely animal and animal-product free. Find out more