Orca
Naked Mascara
Black Naked Mascara for killer lashes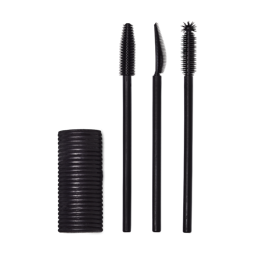 Click and collect

Pay online, collect in-store
Naked Mascara, a brand new Lush concept that epitomises our values, from inception to application.
For those who want striking, black lashes, sweep Orca across lashes for a killer look. 
Our new solid black mascara is an innovation in cosmetics. Beautifully formed, this naked mascara uses butters and waxes to create an iconic, solid product, which creates a lovely effect on the lashes, and the planet, and is completely free of plastic packaging.
With virtually all mascara coming in the same plastic tube packaging, it's fair to question why we believe that Naked Mascara is the future of beauty.
We believe this due to present global makeup habits and imagining how we will likely continue to consume beauty products going forward - unless there's an innovative, planet friendly option. This inspired us to think outside of the box (or tube, in this case) and to create a minimally packaged product that gives the customer all that they need to achieve great lashes, signalling a significant innovation in the cosmetic industry which sets us apart from other brands yet again.
"If there is one makeup product we can't do without – it's mascara. So it is right at the top of the list to create a more environmentally friendly way to enable us to use something we know and love. If you have used block mascara before, this will be easy. If you haven't – it's a knack! So get the knack and make a difference." 
- Helen Ambrosen, Product Formulator
Enter Naked Mascara - vegan, solid mascara, with gorgeous nourishing ingredients, that comes in four iconic shades.
What's inside counts
Each of our new Naked Mascara blocks contain a whole host of incredible ingredients, which, as you might expect, look after your lashes and the planet. 
A great example of this is candelilla wax, a natural alternative to the artificial polymer PVP, which, along with acacia gum, coats the lashes with a protective layer to maintain moisture, distributes the mascara's pigment and helps the product stay in place. Candelilla wax is extracted from the candelilla shrub (Euphorbia antisyphilitica), native to Mexico. During the rainy season these shrubs grow tiny pink flowers and each stem covers itself with a thick sap. The sap turns into wax during the dry season and protects the plant from dehydration.
How to use
1 - Hold your chosen naked mascara with clean, dry fingers.
2 - Lightly wet the tip of the brush and place into the mascara shape using very minimal water.
3 - Rub the brush around the inside of the product in circular motions, making sure there is enough product coating the brush.
4 - Brush through the lash hair, just as you would with any other mascara.
How to store
When you're done, rinse the brush thoroughly and leave it to air dry. 
Shake your naked mascara to remove any remaining water and leave it to dry.
Pop your wand in the insert part of the box and leave to dry.
All about wands
Your Naked Mascara comes with 3 wands, each specifically designed to give you 3 different effects to your lashes. 
1 - Thickness and volume (thick wand)
2 - Definition (one sided comb)
3 - Separation (wand with circular end)
These wands have been exclusively made for Lush from non-toxic polypropylene, and feature non-plastic, bio-based eco-flex heads designed for smoother application. They can be recycled at home in PP/PE streams, or returned to your local Lush store, where they'll be sent for recycling at our Green Hub in Poole.
Fighting animal testing
We have been fighting against animal testing since before we opened our first shop, and the fight continues today. We test products on humans and promote, fund and use human biology relevant testing methods entirely animal and animal-product free. Find out more